Hearing Aid Manufacturers
Here at Wisconsin Hearing Aids, we offer devices from the following leading manufacturers: Starkey, ReSound, Oticon, Signia, Phonak, Widex.
Each brand has wide range of models to suit any of your lifestyle or hearing needs. Any of your hearing needs will be matched with the latest in hearing aid technology and customized to fit seamlessly into your life.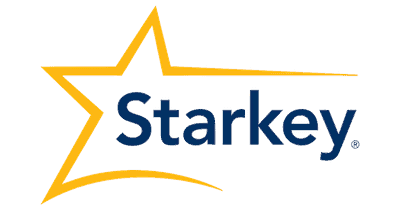 Starkey is an American innovator in smartphone-compatible Made for iPhone hearing aids. Their devices are small, sophisticated, and technological advances that have virtually eliminated feedback and other issues.
Starkey's most popular hearing aids offer users advanced features and wireless hearing solutions for any hearing needs. Acuity™ Directionality allows you to hear clearly in many noisy environments. Direct streaming of phone calls from your iPhone to your hearing aids enables clear and comfortable conversations without feedback or the need to unnecessarily augment the volume of the earpiece. The TruLink app lets you make minor adjustments to sound quality to suit your particular preferences. This app helps your iPhone remember your preferred settings, enabling you to dial in the precise range of sounds that will be both the most comfortable and clear for your hearing profile.


ReSound is a Danish hearing aid manufacturer that is committed to developing hearing solutions to help people rediscover hearing so they can live rich, active, and fulfilling lives. Their innovations have produced several industry firsts, with features such as Wide Dynamic Range Compression and Digital Feedback Suppression.
ReSound knows that when hearing aid technology is effective, you barely notice that it's there. They've been an innovator in creating personalized hearing solutions to match every lifestyle and were an early adopter of digital signal processing (DSP) in hearing aids. DSP is what makes modern hearing aids so adaptable to different persons' needs and different environments.
ReSound hearing aids feature Bluetooth integration with smartphones and other devices, tight integration with apps to change programs for different environments, noise reduction, feedback suppression, and 360° sound reproduction. They even let your hearing care professional alter your fitment right through the app, meaning fewer visits to the office while you adjust to your new hearing aids.


Oticon has developed hearing aids with the idea of complete sound processing. Called "BrainHearing," the technology mimics how the brain processes sound. Combined with state-of-the-art technology, the OPN (pronounced "open") has incredible sound processing options that give users great access to all sounds in their environment.
Oticon is a hearing aid brand that follows the philosophy: Focus on People. Their hearing aids are always designed with the wearer in mind. Technology moves fast with hearing aids, and Oticon always makes sure that the technology they implement is oriented toward making communication between people easier. Their BrainHearing™ technology is designed to work with your brain to present the most natural picture of sound available.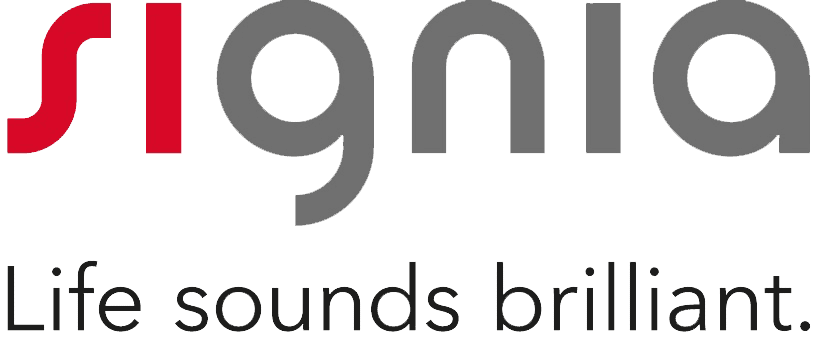 Signia is one of the world's oldest hearing aid manufacturers. They were one of the first to introduce the behind-the-ear and in-the-ear. Signia offers sophisticated technology with their latest platform AX, which boasts a quick charging time and long battery life for folks who are "on the go."
Signia's rechargeable Insio Charge&Go AX hearing aids offer brilliant hearing discreetly custom-made for you. They are tailored to the individual shape of your ear canal to sit discreetly inside your ear. Insio C&G AX's small design gives you all-day wearing comfort, while its leading Augmented Xperience audiology platform delivers outstanding speech clarity, even in noisy situations. With Insio C&G AX from Signia, you can Be Brilliant.


Founded in Switzerland in 1947, Phonak has the mission to reconnect people to their lives and loved ones with advanced hearing technology. Phonak is known as an innovative manufacturer that prides itself on making hearing aids that users find as simple to use as eye glasses. Featuring wireless connectivity and rechargeability, Phonak aids are quick charging and adaptable in many different environments for active hearing aid users. Their devices are designed to adapt automatically to whatever sound environment users find themselves in, providing a seamless listening experience.


Widex asks the question: Why does a hearing aid have to sound like a hearing aid? Starting from there, Widex developed the purest and most natural-sounding hearing aid available. They've been striving and innovating since 1956, and they produce hearing aids intended to be put on in the morning and forgotten about until you take them off again at night. They employ the most advanced DSP (digital signal processing), AI-powered personal programming, and seamless integration with Bluetooth and other technologies.
Manufactured in Denmark, Widex's excellent sound quality makes them the preferred choice among musicians. Their headquarters in Lynge has been powered exclusively by wind and solar energy since 2010, making them the most sustainable hearing aid company in the world.